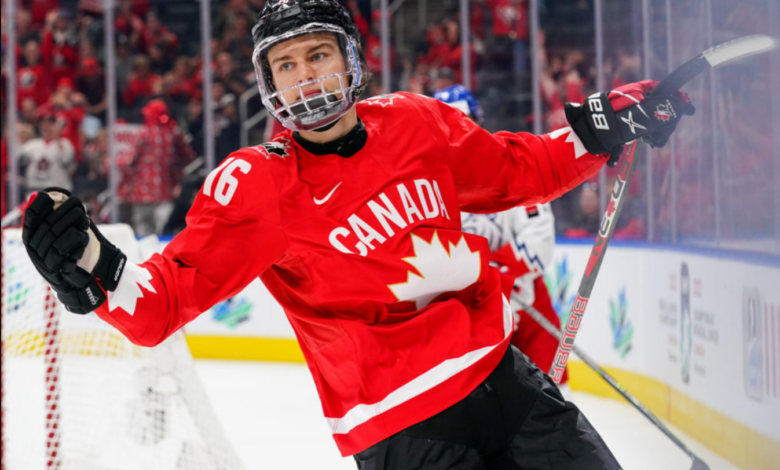 The unanimous top pick in the June NHL Entry Draft, Connor Bedard, has recently faced criticism for a selection he made in the run-up to the draft. Although the Canadian prodigy has always had a spotless record, his most recent decision may drive some supporters away.
Connor Bedard won't be representing Canada in the IIHF Men's World Championships, as we previously reported. At the time, there were conflicting opinions about the transfer among fans, who thought he should be thankful for the chance while also understanding the decision.
Many people assumed Bedard was preparing to play for the Men's squad because he was not listed on the Canada u18 roster, but it now appears that was never the young Bedard's intention.
Two thoughts on Canada's U18 team

1. Ritchie, Wood and Allen will have a great chance to improve draft stock and 2024 draft prospects like Celebrini and D'Aigle can get a nice head start on their draft seasons

2. Is Bedard heading to the men's World Championship? https://t.co/ruzTOi0pzk

— Logan Horn (@LoganWHorn) April 15, 2023
With the Men's Worlds underway now in Finland, the absence of Bedard has drawn the attention of some of hockey's biggest pundits. The sizable gap left by Bedard was subsequently filled by the front runner for first overall this year, Adam Fantilli. This issue was brought up on the JiC show, where hockey commentators Jean-Charles Lajoie and Tony Marinaro debated Bedard's move.
"Adam Fantilli is there, he is. I don't understand it, honestly."

Disagreeing with his colleague, Tony Marinaro immediately retorted.

"Yeah, and? What does he have to prove? When you're going on vacation at the end of June, are you going to come work here? He wants to rest like everyone else!"

"It's a missed opportunity," Lajoie replied.

"And what if he gets injured because he's done too much this year?" Marinaro fired back.

"Injure himself how? By breaking a leg? No, but what kind of injury would you want him to have? Do you really think something could happen that would jeopardize his career? It's true that the World Championship is really scary," "JiC" sarcastically insisted.

"I have absolutely no problem with his choice. He's always represented his country," Marinaro concluded.
À quelques semaines du repêchage…

«Je ne la comprends pas, honnêtement.»🤔😳 https://t.co/aigxvY3qqF

— TVA Sports (@TVASports) May 13, 2023
Many people were curious about Bedard's connection with the organization when he declined to join Team Canada this spring. Some people even speculated that Fantilli's performance could force Bedard out of the top slot in this year's selection.
It's official now that top 2023 prospect Adam Fantilli will play for Canada at the World Championship.

There's a non-zero chance that an insane performance by him here would bump him to 1st overall (obviously it should still be Bedard tho) https://t.co/80moAsjJv7

— Logan Horn (@LoganWHorn) May 5, 2023
We think people are overreacting, but it's fun to read nonetheless.